Preface
Welcome to my online Encyclopedia of Parrots.
My name is Lars Bodin and I have always had a love and interest for birds and especially for parrots.
When I was a small boy my parents gave me a budgerigar as a birthday present and he became my best friends during my childhood. When my budgie died of old age I bought a Cockatiel who kept me company during the teenage years. As a young adult I got a breeding pair of Western Rosella, Eastern Rosella, Crimson Rosella and Red-rumped Parrot. Later I "upgraded" to larger parrots e.g. Tanimbar Corella, a Timney Grey Parrot and several Blue-fronted Amazons. 
When I started breeding parrots I read a lot of books, joined the local bird society etc. in order to learn as much as possible. I started making notes, taking photographs of different species and started working on a small personal encyclopedia in order to organize my notes. After a while I decided to share these notes with other parrot lovers and so the first version of this encyclopedia went live on my homepage in August 1999 (Danish version only).
Since then I have added lot of new photographs, descriptions, information etc. I have several good friends who also love parrots and they have kindly allowed me to also use photos of their lovely birds. Several readers have also contributed with either photos, descriptions and/or comments. After I started using Instagram I have come in touch with several people all over the world who have agreed to share photos of their birds in this encyclopedia. So I continue adding descriptions and photos of various species until I hopefully someday have a complete Encyclopedia of Parrots.
The original encyclopedia was based on static HTML pages that was very cumbersome to manage and edit so in 2017 I replaced the entire encyclopedia with a brand new version based on WordPress - this not only makes it much faster and easier for me to update the content, but also allow for new features like search, comments and also better support for reading the pages on mobile phone and tablets.
Soon after the new version vent live I noticed that I not only had Danish visitors but actually visitors from all over the world. For this reason I decided it was time to share my notes not only with Danish parrot lovers but with the rest of the world too and in December 2017 I started working on an English version of this Encyclopedia of Parrots.
I would very much appreciate any help you can provide either by sending me a copy of your photos, writing a short description of a certain specie or add some comments to one of the existing descriptions. Any kind of contribution will be deeply appreciated!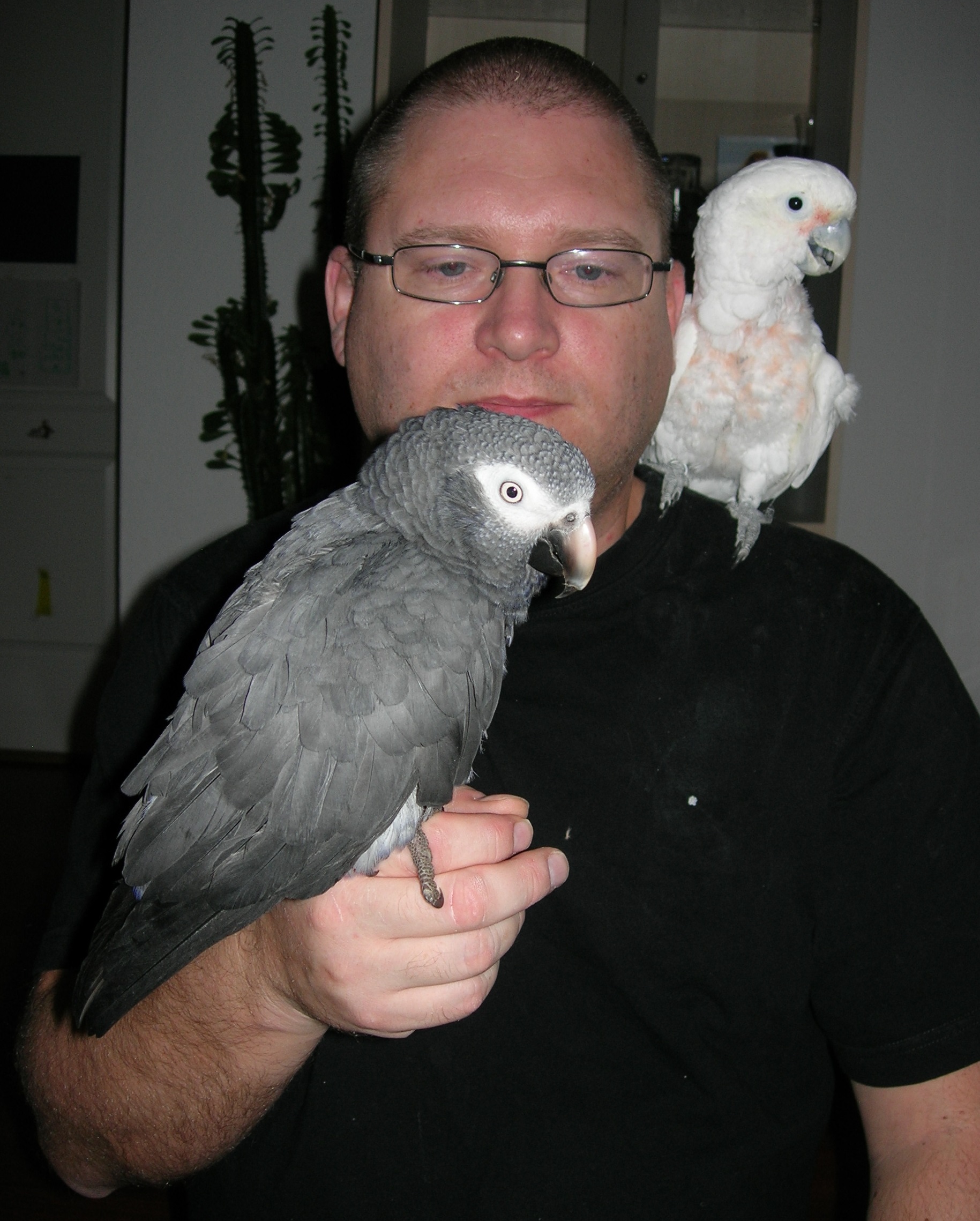 This is me together with Jaco (Timneh Grey Parrot) and Pjuske (Taninbar Corella).