Welcome to Lars Bodin's Encyclopedia of Parrots.
Notice: The English version of this encyclopedia is only at a very early state. The first version of this encyclopedia was started in 1999 (Danish version only). The Danish encyclopedia went through a major update in 2017. In December 2017 I began working on the English version and expect to have all the Danish pages translated in a few months. 
Currently the Danish version of this encyclopedia contains descriptions of 169 species while the English version only contains 15 species but new articles are added each week! 🙂
I will continue updating The Encyclopedia of Parrots with descriptions and photos of more species whenever I have some free time for this project. My goal is that this Encyclopedia will contain information and photos of all parrot species but it is going to take several years before I am finished.
Instructions for new readers
Use the menu bar at the top of each page to navigate.
New readers should take a little time to view the pages listed under the  Introduction menu.
The Information menu contains pages with common information regarding parrots including health, bird-safe plants and materials etc.
The Encyclopedia menu contains various indexes of the different genus and species - use one of these indexes to easily find information about a specific species.
Hint: If you are looking for a specific specie but you do not know the name, you can browse the different genus pages as they contain thumbnail photos of all the species belonging to that genus. 
On each page there is a Search button in the upper right corner - use this to search for a specific specie.
If you are reading a page with a description of a specific specie there will be a blue button in the upper right corner that will take you back to the description of the genus where you can find a listing of all related species.
On all other pages the blue button in the upper right corner will take you back to the main index.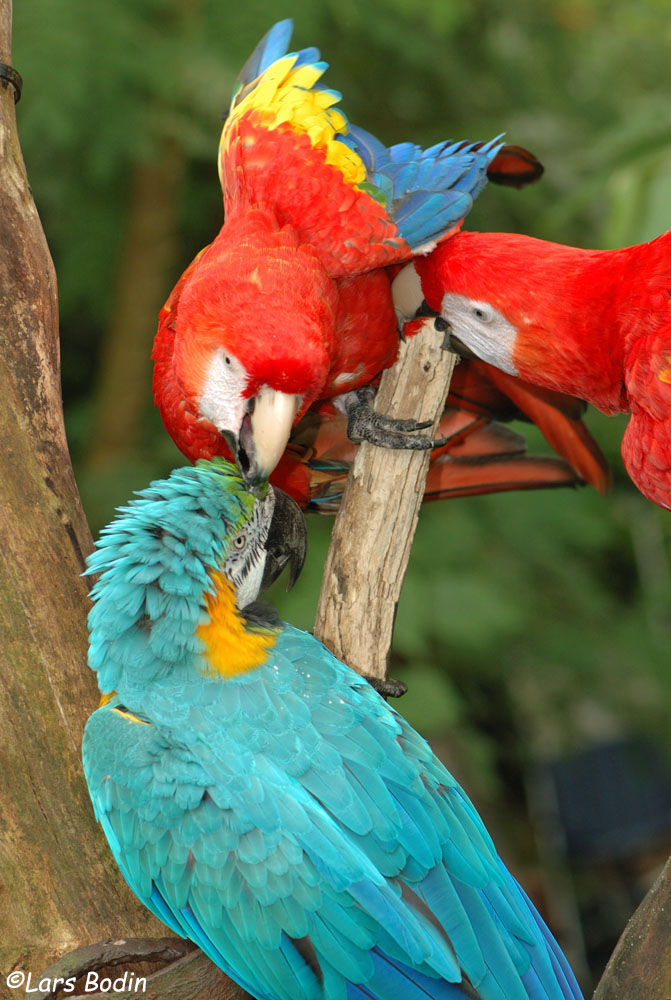 Copyright
Please notice:
All content including descriptions and photos are copyright and may not be copied or distributed except with written permission by the author.
Permission to use photos or text can be granted in certain cases -  please read this page for more information.
Contributions
If you notice any errors or miss some important information please feel free to contact me by email: mail@lars-bodin.dk or write a comment on these pages (don't worry if you can't see your comment right away - all comments must be approved before being made public to avoid spammers).
Any contribution to this encyclopedia is most welcome - especially high quality photos of all species that I am currently missing or where my photos are old low quality photos. Your photo(s) will be tagged with a copyright notice and also listed on the Thank You page.
Under Construction
This site is under construction - please bookmark and come back later! 🙂
If you are curious how this will look when complete feel free to take a look at the Danish version of this encyclopedia: http://fugle.lars-bodin.dk/